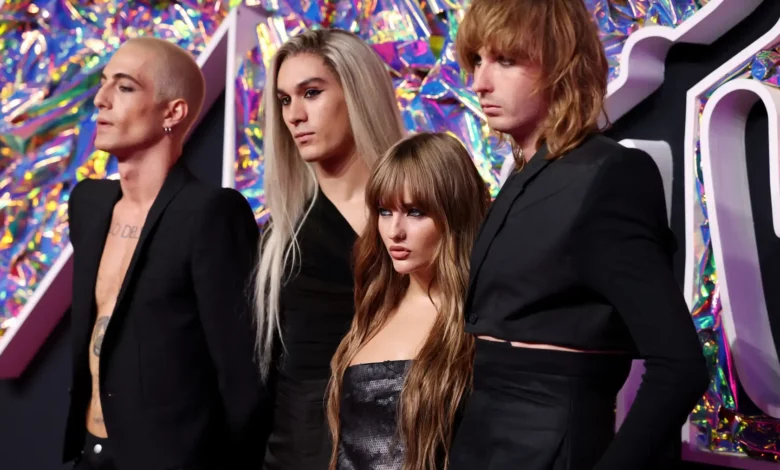 Despite MTV's recent cancellation of the MTV Music Awards 2023 set to be held in Paris, France, tonight the music network announced the winners on its website. As always, Eurovision stars featured prominently among the nominations and winners list, with wins for Måneskin in 'Best Rock' and 'Best Italian', as well as 'Best Nordic' victory for Eurovision 2023 runner-up Käärijä!
Måneskin continue MTV EMAs dominance
Since taking the Eurovision crystal microphone back to Italy in 2021, Italian rockers Måneskin have taken the world by storm with their brash brand of contemporary, glam-rock style. Of course this has captured the attention of MTV audiences and has seen the group become the most successful Italian act with victory for 'Best Rock' at the MTV EMAs 2021, followed up with victory for 'Best Alternative' at the MTV VMAs 2022 and a win earlier this year at the MTV VMAs 2023 for 'Best Rock Video'.
In order to win the award for 'Best Italian Act', Måneskin had to take on a who's who of Sanremo's finest. Among the nominees that lost out to the Eurovision winners were, Annalisa, Elodie, Lazza and The Kolors. In the main awards, Måneskin beat legendary rockers, Arctic Monkeys, Foo Fighters, Metallica, Red Hot Chilli Peppers and The Killers to win 'Best Rock' for the second time, repeating their 2021 victory.
Eurovision stars win regional MTV awards
One of the most hotly contested awards among the Eurovision community was the 'Best Nordic Act' award. This featured the best of this years' crop of talent that found success beyond the Liverpool contest in the charts of UK and mainland Europe. This years' runner-up Käärijä was up against Eurovision 2023 winner Loreen once again, but this time it was the enigmatic Finn who came out on top. Also nominated was Norway's representative, Alessandra, Eurovision 2023 welcome party performer Zara Larsson and Swedish House Mafia.
Over in Switzerland the 'Best Swiss Act' went to Gjon's Tears. His captivating performance of 'Tout l'Univers' achieved third place and Switzerland's best result since 1993. This is his second win in this category, following victory in 2021.
Did your favourites win in the MTV EMAs 2023? Let us know! Be sure to stay updated by following @ESCXTRA on Twitter, @escxtra on Instagram, @escxtra on TikTok and liking our Facebook page for the latest updates! Also, be sure to follow us on Spotify for the latest music from your favourite Eurovision acts. As well as YouTube to see our reactions to the news in the run up to the new Eurovision season.