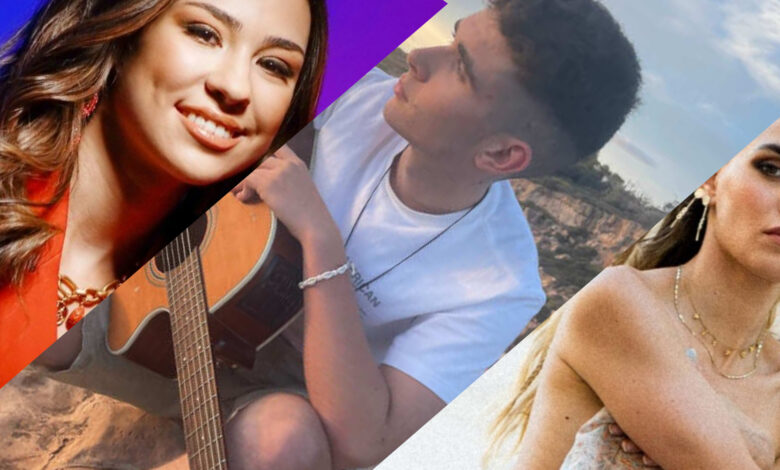 The public internal selection in Greece is taking further shape by the day. After trimming their list down to seven acts previously, now only three acts remain in contention to represent the country at the Eurovision Song Contest 2023. The one thing we know for sure is that Greece will be singing in English in Liverpool.
The next step towards Eurovision 2023 for Greece
Greek broadcaster ERT has taken the next step in their Eurovision selection. Only three candidates currently remain as options for 2023. Melissa Mantzoukis, Victor Vernicos and the duet of Antonia Kaouri and Maria Maragou have made the cut. An announcement as to who eventually wins the internal selection is expected later this month. Before February hits, we will know who will represent Greece at Eurovision 2023.
ERT announced the shortlist on their own channel. Fotis Sergoulopoulos and Tzeni Melita, hosts of the afternoon show Proian Se Eidon, Tis Mesimvrian, had the honour of revealing the shortlist. The selection of the shortlist was in the hands of two separate committees. One consisted of music professionals selected by ERT, the Music Committee. Its members are Dimitris Papadimitriou, Petros Adam, Leonidas Antonopoulos, Fotis Apergis, Maria Kozakou, Konstantinos Bourounis and Yiannis Petridis. The other committee was made up of audience members from all over Greece. A total of seventy Greek citizens were part of this committee.
Melissa, Victor or Maria and Antonia
With just three acts in the running, it's time to take a closer look at each of them. What do we know about them and what do we know about the songs they've lined up for Eurovision 2023?
Melissa Mantzoukis – Liar
First up, we have Melissa Mantzoukis. Back in October, Melissa applied for the Eurovision Song Contest. She was born in 2004 and lives in Ingolstadt, Germany. That's also where she kickstarted her career just last year. Aged 18, she took part in Deutschland sucht den Superstar, the German version of Idol. Her father was Greek, but sadly passed away last year. Her mother is from Georgia.
Melissa did not win DSDS, but made it through to the final. In style with all three of Greece's most recent entries, Melissa is not based in Greece only. With Stefania (Netherlands), Amanda Tenfjord (Norway) and Katerine Duska (Canada), Mantzoukis would be a pick in line with a recent Greek tradition. Sources say Melissa Mantzoukis will bring the song Liar to the competition. It has reportedly been written by a Dutch-Greek team. Descriptions of the song say it's an uptempo pop and dance number. In case ERT decide to select Melissa Mantzoukis, Fokas Evangelinos will help stage the entry: A very experienced stage director is on the cards.
Victor Vernicos – What They Say
Once again, Greece are looking somewhat across the border for their next option. Victor Vernicos is a young singer who's half Greek and half Danish, but he grew up in Greece. And if you thought Melissa was a young gun with her 18 years old, Victor can trump that card. Victor Vernicos is just sixteen years old. His proposal comes from the most influencial Greek record label: Panik Records.
To make you feel a little older… He sang Heroes by Måns Zelmerlöw in his bedroom at the age of eight years old. His song for Liverpool would be titled What They Say and it's a song he wrote himself. He did so when he was just fourteen years old. Victor himself describes the song as emotional, but full of energy. Others have called the song a midtempo ballad. Asked why he wanted to go to Eurovision, Victor said it's "the most exciting music event of the year".
Antonia Kaouri & Maria Maragou – Shout Out
The only duo left in the selection is Antonia Kaouri and Maria Maragou. Antonia Kaouri rose to fame in Greece just last year, when she auditioned on The Voice of Greece. Sakis Rouvas and Helena Paparizou were quick to turn their chairs, with Rouvas even proclaiming her a potential winner of the show. Sadly, a Covid-19 infection eliminated Kaouri from the final. However, ever since the show, she's received praise in Greece for her unique style and powerful vocal. Releases like Gia Pantasou and Etsi Einai I Sheseis stormed the charts in her home country. Joining her bid is actress and singer Maria Maragou. The 29-year old has mostly won her fame through her acting skills, but is now hoping to make her way to the big Eurovision stage.
The song Shout Out is the rockiest of the three. An alternative pop rock track would be a new route for Greece, but might prove successful in the end. Like Melissa Mantzoukis, Antonia and Maria have secured the support from both Fokas Evangelinos and Dimitris Kontopoulos.
Greece in the Eurovision Song Contest
Greece debuted in the Eurovision Song Contest 1974. Up until the 2000s, the country didn't have much success. Two fifth places by Mathima Solfege (1977) and Olou Tou Kosmou I Elpida (1992) were the country's highlights. This all changes in their golden era. Between 2001 and 2008, Greece finished in the top three four times, even winning the contest in 2005 with Helena Paparizou. Soon after, they however hit a rough patch. Between 2014 and 2019, Greece failed to qualify twice and managed a nineteenth place as their best of those years.
After the Covid-19 pandemic, Greece has picked itself back up again with two consecutive top ten results. Stefania took her Last Dance to tenth place, with Amanda Tenfjord coming eighth with Die Together. ERT will now be hoping to continue their good string of results.
What do you think of the three finalists for Greece at Eurovision? Let us know in the comments below or on social media! Be sure to stay updated by following @ESCXTRA on Twitter, @escxtra on Instagram, @escxtra on TikTok and liking our Facebook page for the latest updates! Also, be sure to follow us on Spotify for the latest music from your favourite Eurovision acts.