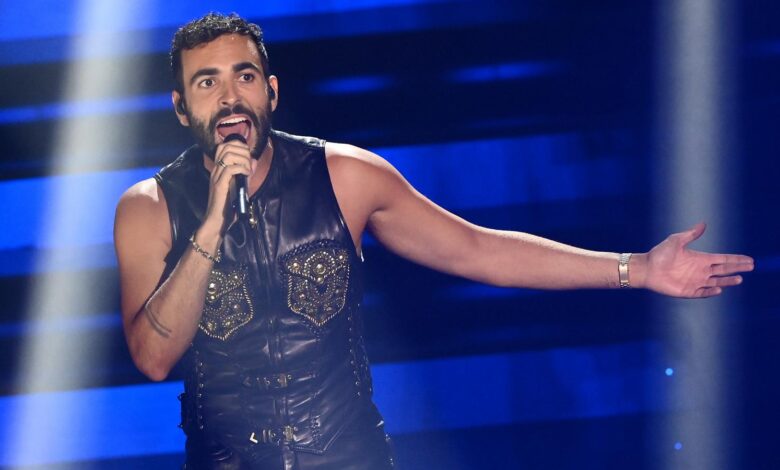 Four nights have already taken place, so it's time to take a look at the standings. Who are the favourites for this year's Festival di Sanremo? The ultimate favourite is no stranger to Eurovision…
Marco Mengoni keeps on winning
The hot favourite for this year's Festival di Sanremo is Marco Mengoni. It wouldn't be his first Sanremo victory, previously having won the 2013 edition with "L'essenziale". This year, he is competing with the song "Due Vite". The song won the press voting on the first night, when half of the acts competed.
Mengoni held on to his first place after night three, when televoting played the biggest role. Last night, the cover night gave the 2013 Eurovision star another victory. In a duet with The Kingdom Choir, his rendition of "Let It Be" was enough for victory. Mengoni therefore heads into the final night as leader of the classification.
Ultimo and Lazza as Sanremo chasers
We don't quite know how far behind the nearest chasers are, as we don't know percentages in each voting. We do however know that Ultimo and Lazza are completing the podium of the provisional ranking. Ultimo had a disappointing first night, finishing in fourth. After two nights, that brought him a tenth place only. However, his "Alba" then went on a high rise. Presumably, he won the third night as he climbed to second place in the overall rankings. His duet with Eros Ramazzotti on night four secured his top three spot for now.
Lazza is currently third in the rankings. On night two, he too finished in fourth, ending up as seventh in the general classifications. He rose to fourth with his song "Cenere" on the third night and then climbed yet another spot on night four. His duet partners were Emma Marrone, who represented Italy in 2014 at Eurovision, and violinist Laura Marzadori.
Are there any outsiders?
As always, there are a couple of outsiders as well. Before Festival di Sanremo kicked off, Giorgia was a much anticipated returnee. She scored a world famous hit with "Vivo Per Lei" alongside Andrea Bocelli in the 90s. Now 51 years old, the 1995 Sanremo winner is back for another go. Her "Parole Dette Male" was in eighth after the second night and dropped to tenth on night three. However, her duet with Elisa brought her all the way up to fifth now. If her momentum keeps going, she might make that top five again tonight. The same goes for Mr. Rain with his song "Supereroi", who's now in fourth place.
Fan favourites Madame and Elodie seem to be losing ground. "Il Bene Nel Male" by Madame was top three material after just two nights, but has slowly slid down into sixth place. Despite international fan support, Elodie has only been ninth for the past few nights with her song "Due".
Provisional rankings for Festival di Sanremo
Below, you can see the provisional ranking of Sanremo 2023. Tonight, everything can still change. The top five of the night will go through to a superfinal, where anything could happen…
Marco Mengoni – Due Vite
Ultimo – Alba
Lazza – Cenera
Mr. Rain – Supereroi
Giorgia- Parole Dette Male
Tananai – Tango
Madame – Il Bene Nel Male
Rosa Chemical – Made In Italy
Elodie – Due
Colapesce Dimartino – Splash
Gianluca Grignani – Quando Ti Manca Il Fiato
Coma_Cose – L'addio
Modà – Lasciami
Articolo 31 – Un Bel Viaggio
LDA – Se Poi Domani
Leo Gassmann – Terzo Cuore
Paola e Chiara – Furore
Ariete – Mare Di Guai
Mara Sattei – Duemilaminuti
Colla Zio – Non Mi Va
Gianmaria – Mostro
I Cugini di Campagna – Lettera 22
Levante – Vivo
Olly – Polvere
Anna Oxa – Sali (Canto dell'Anima)
Will – Stupido
Shari – Egoista
Sethu – Cause perse
The final of Festival di Sanremo will start tonight at 20:45 CET. RAI Uno will broadcast the show, which will finish around 02:00 CET.
Are you happy with the favourites for Festival di Sanremo? Who should win the show? Let us know! Be sure to stay updated by following @ESCXTRA on Twitter, @escxtra on Instagram and liking our Facebook page for the latest updates! Also, be sure to follow us on Spotify and YouTube to see our reactions to the news in the run up to the Eurovision Song Contest 2023, which is due to take place in Liverpool!