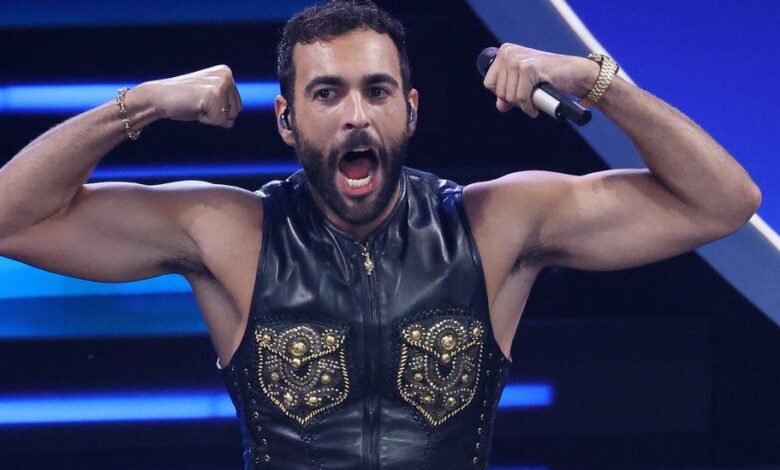 In a special press conference for the winner of the Festival di Sanremo, Marco Mengoni confirmed his Eurovision 2023 participation. It will be his second go at Eurovision.
Marco Mengoni to Liverpool
According to several sources, Marco Mengoni would indeed reveal his official decision today. During the winner's press conference, Mengoni indeed announced that he would gladly accept the task of representing Italy at Eurovision.
Mengoni's decision does not come as a surprise. In the BBC Eurovisioncast, Nina Warhurst interviews Marco Mengoni ahead of the Festival di Sanremo final. At 6:30, she asks him whether he would go to Eurovision if he were to win Sanremo. To that, he answers:
Haha let's see! I would like to go of course.

Marco Mengoni to BBC Eurovisioncast
Mengoni wins the marathon
After almost six hours of television, musical director and main host Amadeus proclaimed Marco Mengoni as the winner of Sanremo. His song is called "Due Vite", a song he co-wrote himself. The other composers are Davide Simonetta and Davide Petrella. The victory was not a major surprise, looking at the first nights of Italy's greatest music festival.
In the superfinal, Marco Mengoni saw off competition from Lazza, Mr. Rain, Ultimo and Tananai. They all qualified for the superfinal. Giorgia and Madame only narrowly missed out on the top five. In the superfinal, "Due Vite" received 45.53% of the total televotes – a landslide victory. You can see the full result of Festival di Sanremo below:
Marco Mengoni – Due Vite (Superfinalist)
Lazza – Cenere (Superfinalist)
Mr. Rain – Supereroi (Superfinalist)
Ultimo – Alba (Superfinalist)
Tananai – Tango (Superfinalist)
Giorgia – Parole Dette Male
Madame – Il Bene Nel Male
Rosa Chemical – Made in Italy
Elodie – Due
Colapesce & Dimartino – Splash
Modà – Lasciami
Gianluca Grignani – Quando Ti Manca Il Fiato
Coma_Cose – L'addio
Ariete – Mare di Guai
LDA – Se Poi Domani
Articolo 31 – Un Bel Viaggio
Paola e Chiara – Furore
Leo Gassmann – Terzo Cuore
Mara Sattei – Duemilaminuti
Colla Zio – Non Mi Va
I Cugini di Campagna – Lettera 22
Gianmaria – Mostro
Levante – Vivo
Olly – Polvere
Anna Oxa – Sali (Canto dell'anima)
Will – Stupido
Shari – Egoista
Sethu – Cause Perse
As always, the winner of Festival di Sanremo has the right to represent Italy at the Eurovision Song Contest. Marco Mengoni previously won that right in 2013 and sang "L'essenziale" in Malmö, finishing in seventh place. The past Sanremo winners have all accepted the Eurovision invitation. The last ones to decline were Stadio in 2016, passing over the right to runner-up Francesca Michielin.
Italy have won Eurovision three times, in 1964, 1990 and 2021. The Eurovision Song Contest in 2022 therefore took place in the Italian city of Turin, where Kalush Orchestra from Ukraine emerged victorious. As they are currently unable to host the contest, we will instead travel to Liverpool, in the United Kingdom as they finished in second place.
What do you think of Marco Mengoni's decision? Let us know! Be sure to stay updated by following @ESCXTRA on Twitter, @escxtra on Instagram and liking our Facebook page for the latest updates! Also, be sure to follow us on Spotify and YouTube to see our reactions to the news in the run up to the Eurovision Song Contest 2023, which is due to take place in Liverpool