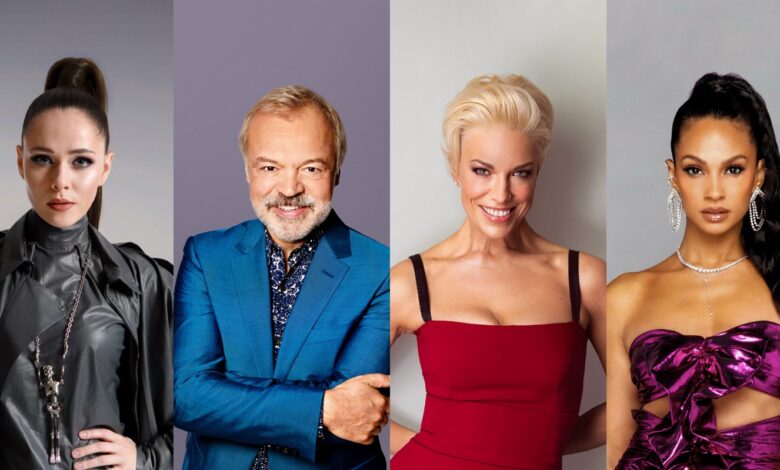 This Wednesday it was announced that Eurovision 2023 in Liverpool will be hosted by talkshow host Graham Norton, actress Hannah Waddingham, pop-icon Alesha Dixon and Ukrainian singer Julia Sanina. This news was revealed on the Zoe Ball Show on BBC Radio 2 this morning.
Fans have met this decision with an overall feeling of excitement.
Hosting duties during Eurovision week
While the four hosts will all be on the same stage in Liverpool at some point, their hosting duties are split between the Semi-Finals and the Grand Final. For the Semi-Finals, we will see Hannah, Alesha and Julia on stage as a power trio. For the Grand Final, Graham Norton will join them as a co-host.
While not a host, Ukrainian tv-presenter and Eurovision commentator Timur Miroshnychenko will be responsible for the opening ceremony and has the role of being the Eurovision correspondent in Liverpool.
Meet the hosts of Eurovision 2023!
Graham Norton is best known for his talkshow The Graham Norton Show, with which he has won five BAFTA TV Awards. Since 2009, he has been the main commentator for the BBC coverage of Eurovision. Graham is well known amongst the Eurovision community for his sarcastic comments while being on commentary duty.
Alesha Dixon was a part of the girl group Mis-Teeq. After that, Alesha began a successful solo career. She has appeared as a judge on Strictly Come Dancing and Britain's Got Talent.
Hannah Waddingham is a well known actress. She is best known for playing Rebecca Welton in the comedy series Ted Lasso. She has also starred in several West End shows like Spamalot, Into the Woods and The Wizard of Oz.
Waddingham said it was "a great privilege" to be involved.
"It's one of the world's greatest music festivals. But this year, perhaps more than ever, it is such a great honour to be standing shoulder to shoulder with Ukraine, a country which has carried itself with such strength and unity."
Julia Sanina is the lead singer of the Ukrainian band The Hardkiss. In 2016, The Hardkiss finished in second place in Ukraine's national selection Vidbir. Julia also appeared as a judge on Vidbir 2023.
Speaking of her announcement as a host, Sanina said:
"I'm so excited to showcase Ukrainian culture and creativity, and to help put on a show to make my country proud,""I can't wait to get to Liverpool and meet the fans and the rest of the Eurovision family."
Are you excited about the hosts of Eurovision 2023? Let us know! Be sure to stay updated by following @ESCXTRA on Twitter, @escxtra on Instagram, @escxtra on TikTok and liking our Facebook page for the latest updates! Also, be sure to follow us on Spotify for the latest music from your favourite Eurovision acts, as well as YouTube to see our reactions to the news in the run up to the 2023 Eurovision season.