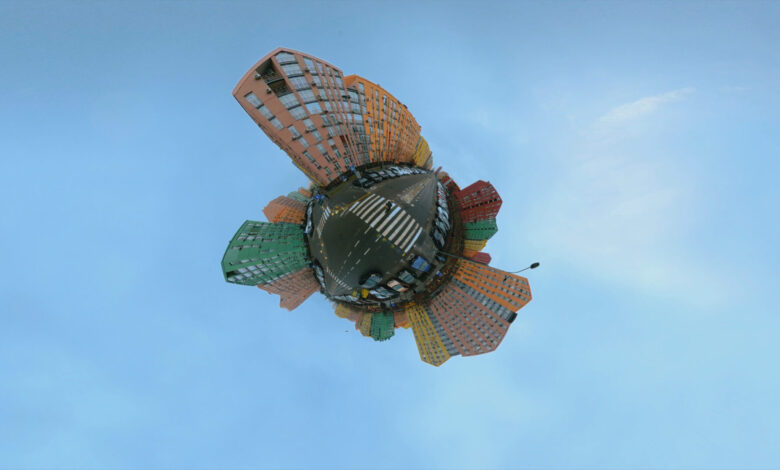 After being teased via short clips posted to the official Eurovision social media channels, the concept of this year's postcards has been announced by the BBC. The postcards will visit locations across the UK, Ukraine and the 35 other participating countries in line with the 'United by Music' slogan.
Through the use of pioneering drone technology and 360-degree cameras, viewers will be taken seamlessly between locations across Ukraine, the UK, and each participating country.
In each postcard, the three locations from each country are connected by the same theme including parks, castles, street art, ports, beaches, rivers, and lakes.
Across the 37 Postcards, 111 different locations are featured – making this year's creative concept the most varied and well-travelled yet.
To create the postcards, UK-based Windfall Films collaborated with Ukrainian film production company 23/32 Films, who organised shoots and secured aerial filming permits for the portions of each Postcard featuring locations in Ukraine. For the Postcards from each participating country, local production crews were used where possible.
Each postcard is set to music from compositions by Dmytro Shurov, a Kyiv-based musician and composer.
The creative concept for the Postcards is much anticipated by fans every year.

They are the perfect way to introduce each act to the combined 160 million people watching across the globe, and I can't wait for audiences to see this year's offering when they air in the Semi Finals and Grand Final.

As well as the UK, Ukraine and participating countries being United by Music, viewers will be surprised to see what else unites us too.

Rachel Ashdown, BBC Lead Commissioner for Eurovision 2023
Be sure to stay updated by following @ESCXTRA on Twitter, @escxtra on Instagram, @escxtra on TikTok and liking our Facebook page for the latest updates! Also, be sure to follow us on Spotify for the latest music from your favourite Eurovision acts, as well as YouTube to see interviews and reactions to the news in the run up to the Eurovision Song Contest 2023!