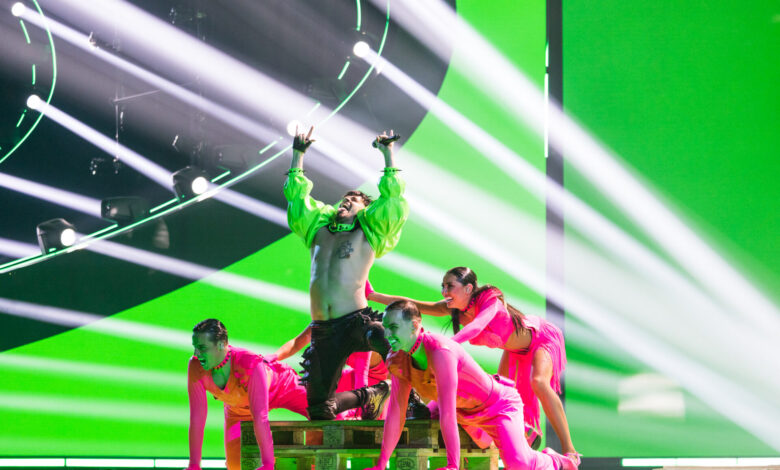 STRATIS BALOMAS
Good evening Europe! My name is Stratis, I am 31 years old, and I live in the Aegean Island of Lesvos in Greece. I have studied Sociology and I completed my master's degree in Gender Studies. Eurovision is an aspect of my life since 2001. You can find me on Tik Tok where I provide music games, trivia, battles and ESC related content in a daily basis:
Your first Eurovision memory?
My first Eurovision memory starts alongside with the Millennium as an authentic GEN Y. I remember one of my classmates had a new walkman which she used to flex during a school excursion. She had a new cassette as well. I heard the melody of the Greek Eurovision entry, "Die for you" by Antique and I felt a euphoric moment to perfuse me. This was the moment that I discovered Eurovision and that music would've been always around me since then.
Your Eurovision journey?
My widest Eurovision memory is the contest which was held in Riga in 2003. I remember that "Every way that I can" by Sertab Erener, was a smash hit in Greece. It was also the first contest that I infiltrated more except of knowing just my country's entry. I still love Turkish entry as well as "Sanomi" from Belgium, the Russian entry "Ne ver', ne boysia" and "Dime" by Spain.
Of course, 2004 was a great Eurovision year for my country with the exceptional performance of Sakis Rouvas which also lighted up the passion of Greeks in Eurovision. Then, I remember how big and small cities as well as villages around Greece celebrated the victory of Helena Paparizou one year later.
The contest held in Belgrade in 2008, was one of my favorites till these days. There was a plethora of great dance bangers, exceptional stage performances and deeply emotional songs. Shady Lady is one of my favorite dance songs with great staging, while the Israeli entry, "Fire in your eyes" is one of my favorite songs of all time. Kalomira and Sirusho left their Eurovision blemish, while Charlotte Perrelli and Olta Boka were completing my personal ranking of the best entries that year.
I couldn't exclude also the 2009 Eurovision edition as one of the best, since "Fairytale", "Is it true", "Always", "Dum Tek Tek" and "Jan Jan" are Eurovision anthems nowadays.
Since 2011 and while the internet connection was usable to everyone in my country more easily, I started to watch national finals prior to May's Eurovision and since then, I am more than happy that Eurovision starts months earlier to me.
Loreen is a trademark to modern Eurovision and to me as well, because she managed to shift the era of World music (Ethnic) into a more worldwide pop era in order to bring the Eurovision winning songs into the spotlight of the rest of the globe.
Big milestone to me, was also the participation of Eleni Foureira in the contest while the girl's power with exceptional staging presence is back, because of her.
Why is Eurovision so special to you?
My mother was an immigrant in France back in '70s until the end of '80s. The only cultural event that she had during that period to get connected with her country, was Eurovision. Music was a bridge from France to her home country. Since I remember myself, Eurovision was always present somehow in our conversations and she passed the Eurovision bug to me as well. Eurovision was also the topic of my master's thesis which I was writing for more than 6 months and finally, got the highest score that it could've taken.
What attracted to you to ESCXTRA?
ESCXTRA is one of my favorite YouTube channels to watch and site sources to get informed about Eurovision news all the season. Since I've seen this year's application call, I told to myself, this is the right time to apply.
And finally, your top 5 Eurovision songs of all time?
It's a quite difficult task to complete to and of course, it's not intertemporal as I can change my mind while the Eurovision Song Contest is an ongoing contest. However, I tried, and this is my top 5 Eurovision songs of all time:
5. "Tattoo" – Loreen (Sweden 2023)
4. "Shady Lady" – Ani Lorak (Ukraine 2008)
3. "Euphoria" – Loreen (Sweden 2012)
2. "My Number One" – Helena Paparizou (Greece 2005)
1. "Fire in your eyes" – Boaz Mauda (Israel 2008)