Welcome to Xtra Insider, our new series which will give you an insight into how well each country was statistically likely to do this year, as well as what the team at ESCXTRA think of your favourite entries into (what would have been) this year's contest! Today, we analyze and review Portugal
Yes, this year's contest has been cancelled…but that doesn't mean we can't love the songs! In this series, we'll review each and every entry that would have taken part in this year's Eurovision. On top of this, we're introducing a new analysis section in which we take a look into each country's history and how likely they would have been to do well this year. Our honest and brutal reviews and analysis will keep you entertained throughout what would've been the Eurovision season! We will also each give points using the usual Eurovision points system (12, 10, then 8 down to 1), and create an ESCXTRA leaderboard of the entries!
Today, we'll be giving analysis and reviews of the Portuguese entry, Medo de sentir, from Isaac, Matt, Nick, Rigmo, Tim and Tom R. Let's get started!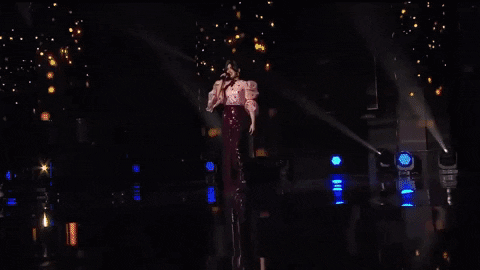 The Reviews
Isaac
Portugal are forever unfortunate, except for that one time, everyone tends to quietly think their entries are unremarkable, forget them very quickly, and what do you mean there's an Iberian nation aside from Spain that enters Eurovision? It's a shame, but this is again a very forgettable song from them, and it can't even make me think that it's 'cute' or 'trashy' along with it.
Matt
"Medo de Sentir" is a pretty song, sung quite beautifully by Elisa. But the running theme for all the songs I've ranked low like Portugal is that I'm missing a key element. Here, I just don't get much impact other than a warm feeling… luke warm.
Nick
Portugal usually dare us to like something out of the box. They've done that for years. Once it brought them a victory, twice it blew up in their faces. So this year, Portugal have decided to… just be there. And that's it. They're there. Welcome back, early 10s Portugal. We've missed you, but we prefer the new Portugal. So… for 2021, ask your brother to come back? Thanks!
Rigmo
[long and incomprehenible rant about Passe-Partout not winning the national selection cut for time] -WRONG WITH THEM? EXCUSE ME???? Now that that's over with, on to the actual entry. It exists. It's a song. It even has a singer with a voice in it. Nice.
Tim
The more I got to listen to the song, the more I got to appreciate the meaning of the song further. The song has a lot of lyrical meaning to me, and I can relate to its story. If I appreciated this masterpiece before I would've rated it higher. I hope that Elisa is able to find a new song for next year with the same emotional depth, I'm looking forward to what she has in store for the future.
Tom R
I can't tell you enough how much I wanted "Passe-Partout" in Rotterdam but this is actually quite cute and would have been nice to take the speed down a bit after the big bangers from Latvia, Armenia and Serbia. I'm getting good vibes from this song and I do like it. But it's not memorable enough to stand out and my score does reflect this slightly. Saying that, it's Portugal's best entry for years!
Scores
| | | | | | |
| --- | --- | --- | --- | --- | --- |
| Costa | 10 | Nick | 2 | Tim | 4 |
| Dominik | 6 | Riccardo | 5 | Tom O | 3 |
| Isaac | 4 | Rigmo | 4 | Tom R | 5 |
| Lisa | 4 | Rodrigo | 5 | Vincent | 4 |
| Luke | 8 | Sami | 2 | Wiv | 1 |
| Matt | 2 | Sean | 7 |  |  |
| Nathan P | 3 | Simon | 3 |  |  |
Therefore, Portugal scores 82 points in total!
Leaderboard
Portugal ties with Moldova with 82 points. Following the Eurovision tiebreaker rules, both countries received zero sets of 12 points, but Portugal received one set of 10 points. Therefore Portugal comes out on top and lands at 31st place!
Sweden – 164
Bulgaria – 163
Iceland – 162
Russia – 156
Malta – 154
Switzerland – 151
Israel – 148
Germany – 142
Serbia – 139
Denmark – 136
Ireland – 136
Ukraine – 135
Norway – 134
Italy – 129
Latvia – 121
Romania – 121
Armenia – 120
United Kingdom – 120
Australia – 117
Netherlands – 113
Austria – 111
Belgium – 109
North Macedonia – 107
Czech Republic – 104
Spain – 100
Cyprus – 97
San Marino – 97
Albania – 97
Finland – 95
Estonia – 93
Portugal – 82
Moldova – 82
Belarus – 81
Poland – 76
Georgia – 72
France – 70
Slovenia – 53
Tomorrow, it will be the turn of Greece to be reviewed. For now, take another listen to the Portuguese entry below!
Do you agree with our reviews of Portugal? What are your thoughts on Medo de sentir?
Let us know in the comments below and on social media @ESCXTRA