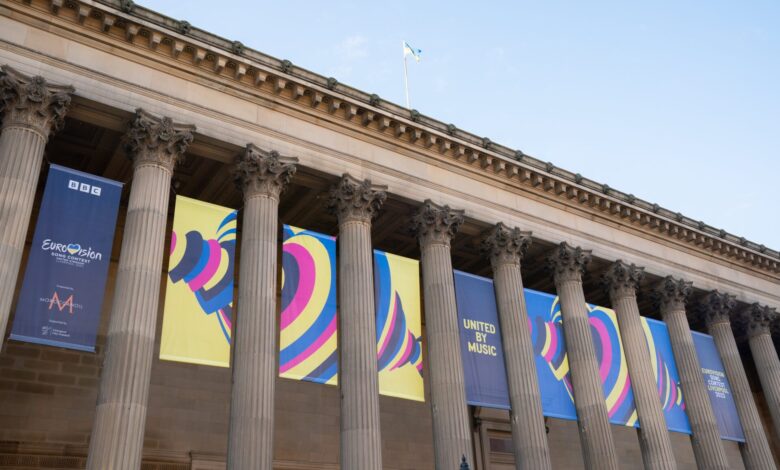 Earlier today, the Semi-Final Allocation Draw for the 2023 Eurovision Song Contest took place in St George's Hall, Liverpool. The ceremony for the draw and the passing of the Host City insignia pass from previous hosts Turin to Liverpool was streamed live and broadcast via BBC2.
Hosted by AJ Odudu and Rylan, the lineups for each Eurovision 2023 semi-final were determined randomly by drawing countries from 6 pots (based on historical voting patterns) to determine in which semi and which half they will compete in.
The automatic qualifiers, A.K.A. 'the big 5' countries (France, Germany, Italy, Spain and the United Kingdom) do not compete in the semi-finals. As the reigning winners, Ukraine will also not be competing in the semi-finals.
Despite not competing, viewers in three of the automatically-qualifying countries will be allowed to vote in each semi-final. The allocation of this was also drawn at random, alongside the competing countries.
NOTE: The exact running order will be decided by producers at a later date.
Semi-Final Allocation Draw
Semi-Final One (Tuesday 9 May)
First Half
🇭🇷 Croatia
🇮🇪 Ireland
🇱🇻 Latvia
🇲🇹 Malta
🇳🇴 Norway
🇵🇹 Portugal
🇷🇸 Serbia
Second Half
🇦🇿 Azerbaijan
🇨🇿 Czech Republic
🇫🇮 Finland
🇮🇱 Israel
🇲🇩 Moldova
🇳🇱 Netherlands
🇸🇪 Sweden
🇨🇭 Switzerland
Automatic qualifiers voting during semi-final one:
🇫🇷 France
🇩🇪 Germany
🇮🇹 Italy
Semi-Final Two (Thursday 11 May)
First Half
🇦🇲 Armenia
🇧🇪 Belgium
🇨🇾 Cyprus
🇩🇰 Denmark
🇪🇪 Estonia
🇬🇷 Greece
🇮🇸 Iceland
🇷🇴 Romania

Second Half
Automatic qualifiers voting during semi-final two:
🇪🇸 Spain
🇺🇦 Ukraine (Last year's winning country)
🇬🇧 United Kingdom (Host country)
What do you think about the semi-final allocation for Eurovision 2023? Let us know! Be sure to stay updated by following @ESCXTRA on Twitter, @escxtra on Instagram, @escxtra on TikTok and liking our Facebook page for the latest updates! Also, be sure to follow us on Spotify for the latest music from your favourite Eurovision acts. As well as YouTube to see our reactions to the news in the run up to the Liverpool contest.