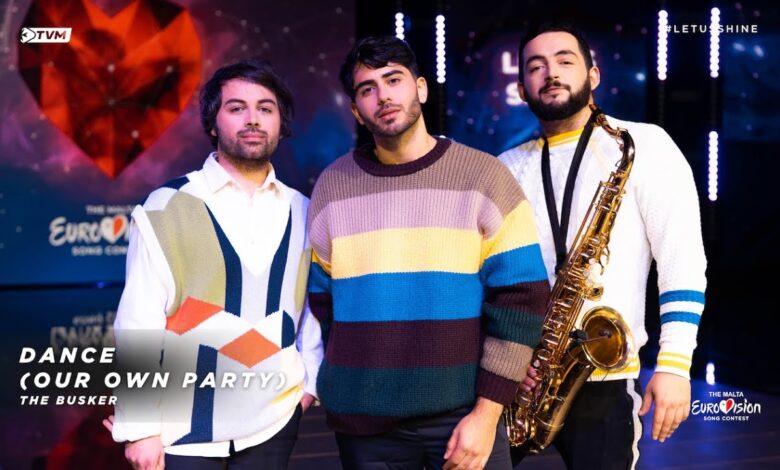 Malta have chosen their entrant for the Eurovision Song Contest in Liverpool. The Busker won Malta Eurovision Song Contest with "Dance (Our Own Party)" and will now go to Liverpool.
The Busker wins a show of sixteen in Malta
The Mediterranean island nation went through an extensive process to select their entry for Liverpool. Back in January, quarter finals took place with a total of forty acts taking part. A total of 24 then qualified for the semifinal, which took place last Thursday. There, they eliminated enother eight acts to end up with a final field of sixteen.
Between the quarter finals and the semi, TVM took the decision to disqualify one of the frontrunners. Aidan Cassar was deemed to have broken the MESC rules and was disqualified with "Regina". He however returned tonight as an interval act, despite threats of legal action against the broadcaster.
The following sixteen acts took part tonight in Malta:
The Busker – "Dance (Our Own Party)": 41 + 80 = 121
Matt Blxck – "Up.": 45 + 40 = 85
Ryan Hili – "In The Silence": 41 + 35 = 76
Maxine Pace – "Alone": 28 + 45 = 73
Brooke – "Checkmate": 39 + 31 = 70
Chris Grech – "Indescribable": 27 + 7 = 34
Ian – "On My Own": 19 + 3 = 22
Fabrizio Faniello – "Try To Be Better": 12 + 9 = 21
Eliana Gomez Blanco – "Guess What": 10 + 10 = 20
Christian Arding – "Eku Ċar": 11 + 6 = 17
Nathan – "Creeping Walls": 3 + 9 = 12
Dan – "It'll Be OK": 8 + 2 = 10
Cheryl Balzan – "La La Land": 5 + 4 = 9
Giada – "I Depend On You": 1 + 2 = 3
Geo Debono – "The Mirror": 0 + 3 = 3
Stefan – "Heartbreaker": 0 + 3 = 3
Matt Blxck won the jury vote with 45 points, ahead of Ryan Hili and The Busker on 41. Brooke scored 39 and came fourth. Thanks to a very convincing televote score of 80 points, The Busker won tonight's show in a minor upset result. Matt Blxck came second, with Ryan Hili finishing third.
Malta at Eurovision
Having first débuted back in 1971, Malta are yet to win the Eurovision Song Contest. They currently have the longest waiting period of all countries. Only Cyprus have more participations without a victory, but they débuted in 1981 – ten years after Malta. When Malta returned to the contest after a sixteen year absence in 1991, they scored some solid results. This includes two second places in the early 21st century. Both Ira Losco (2002) and Chiara (2005) took home the silver medal from Eurovision.
Last year, Emma Muscat represented Malta in Turin. She sang "I Am What I Am", but failed to qualify for the Grand Final of the Eurovision Song Contest.
Are you happy with the winner in Malta? Let us know! Be sure to stay updated by following @ESCXTRA on Twitter, @escxtra on Instagram and liking our Facebook page for the latest updates! Also, be sure to follow us on Spotify and YouTube to see our reactions to the news in the run up to the Eurovision Song Contest 2023, which is due to take place in Liverpool!