Welcome to Xtra Insider, our new series which will give you an insight into how well each country was statistically likely to do this year, as well as what the team at ESCXTRA think of your favourite entries into (what would have been) this year's contest! Today, we analyse and review Albania.
Yes, this year's contest has been cancelled…but that doesn't mean we can't love the songs! In this series, we'll review each and every entry that would have taken part in this year's Eurovision. On top of this, we're introducing a new analysis section in which we take a look into each country's history and how likely they would have been to do well this year. Our honest and brutal reviews and analysis will keep you entertained throughout what would've been the Eurovision season! We will also each give points using the usual Eurovision points system (12, 10, then 8 down to 1), and create an ESCXTRA leaderboard of the entries!
Today, we'll be giving analysis and reviews of the Albanian entry, 'Fall from the Sky' by Arilena Ara, from Matt, Nick, Rodrigo, Simon, Tim and Vincent. Let's get started!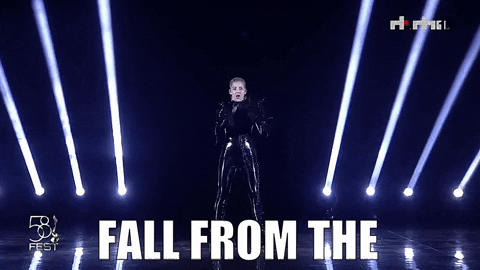 Albania's history at Eurovision
Albania debuted at the contest in 2004 with Anjeza Shahini's 'The Image Of You', coming in a respectable 7th place. Since then they've had a tougher time more often than not, with only 2012's 'Suus' and 2018's 'Mall' coming on the left side of the scoreboard in 5th and 11th place respectively. Curiously, all of their 6 other final qualifications have finished in either 16th or 17th place, not terrible, but not remarkable either. However for a country with a unique cultural heritage, this is a good history, with no long periods of absence from the final and a good mix of songs in English and in Albanian.
This year's entry
As has become tradition, Albania were the first to select their entry again this year, through the show Festivali I Këngës in December. The winner of this show, decided entirely by juries, was Arilena Ara's 'Shaj', narrowly beating out Elvana Gjata, the pre-contest favourite. 'Shaj' was revamped and translated into English and will be performed as 'Fall From The Sky'. It's a dramatic ballad with long held notes.
How does this kind of song tend to do in the contest?
Albania's history with English songs hasn't been very good the last few times they tried it, but this is a slightly different beast. It's produced to a high standard and my benchmark would be, despite the language change, other powerful Balkan ballads, with recent examples like Serbia's 'Kruna' springing to mind, there is intent and power behind this song that should see it to a respectable, if not outstanding, finish.
The Reviews
Matt
I think there is a slight overreaction to the revamped version of the song, given that most of the voting public wouldn't be aware of the previous version come May. That said, I do believe singing in english has taken something away from the performance. It lacks the same level of drama but is still a strong entry from Albania this year. I think it would have qualifed for the final, no problem.
Nick
Stop. Doing. This. I really want to end my review there, but I won't. I'll repeat, though: Stop doing this. Stop constantly revamping songs that don't need it. You qualified twice, with Mall and Ktheju Tokës. Do you really need more lessons that Albanian is the way to go if it's more natural on a song? This will end up like World and Fairytale: Lost and forgotten.
Rodrigo
Albania is great at doing what Albania does. The original FiK version was fantastic and immediately identifiable with the country. Unfortunately the revamped versoin lost some of that authenticy and, whilst still a very pleasant listen I wouldn't necessarily die to have it on repeat.
Simon
'Fall from the sky' has had the same treatment as Eneda Tarifa's 'Fairytale'. The FiK version was not a winner for me, but it had colour and darkness, emotion and energy. Bring on the new English version, and we have a "revamp" with its features wrung out of it. Albania should know where its strengths lie.
Tim
At first when I heard Fall From the Sky as 'Shaj' I was a bit disappointed, because of the fact 'Me Tana' was right there. However, I got used to it when time passed. However, when the new version was released, I had mixed feelings about it, but it does hook you in. Looking at it, they got rid of the Violin break.. one of the best things from the original version. However, I can see the mainstream appeal on the new version, and why they revamped it that way.
Vincent
Originally, I thought the revamp was in the "in-between" categories of Albanian revamps (not incredible, but not something like 2016 either…), and then I've started to like it more and more. The lyrics, although cliché, work well ; and the laid-back instrumentation builds up to something bigger and better than the original. It's 10p for me!
Scores
Costa
7
Nick
3
Tim
5
Dominik
7
Riccardo
4
Tom O
7
Isaac
7
Rigmo
5
Tom R
7
Lisa
3
Rodrigo
5
Vincent
10
Luke
3
Sami
2
Wiv
1
Matt
8
Sean
8
Nathan P
2
Simon
3
Therefore, Albania receives 97 points in total!
Leaderboard
We have a tie! Using the usual Eurovision tiebreaker rules, both countries received no 12 points, but San Marino received two sets of 10 points where as Albania only received one! Therefore, Albania narrowly misses out on beating San Marino and ends up at 4th place with a score of 97.
Ukraine – 135
Belgium – 109
San Marino – 97
Albania – 97
Poland – 76
Tomorrow, it will be the turn of Bulgaria to be reviewed. For now, take another listen to Albania's entry below!
Do you agree with our reviews of Albania? What are your thoughts on Fall from the Sky?
Let us know in the comments below and on social media @ESCXTRA