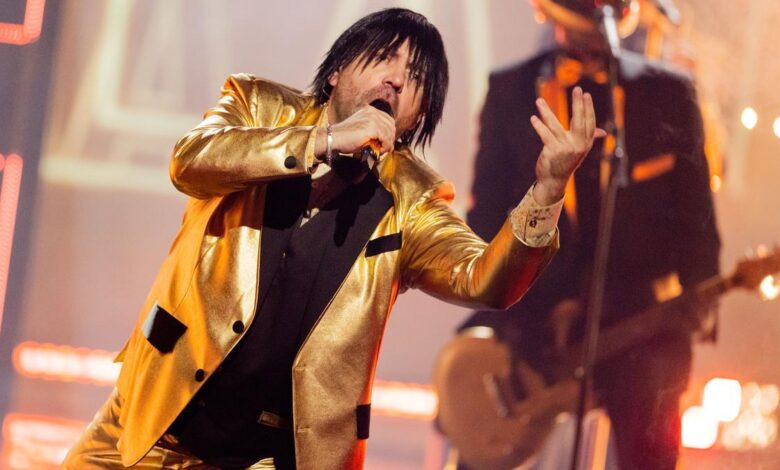 The dust hasn't even settled on Unser Lied für Liverpool, but one of the most discussed acts of this year has already made a statement about 2024. Ikke Hüftgold will try again to represent Germany at Eurovision, he told tabloid Bild.
Ikke Hüftgold: "The national number one"
Tabloid Bild attended the German national final in Cologne last night. They spoke to the acts after the show as well. According to them and many others, Ikke Hüftgold was one of the frontrunners in last night's show despite being the TikTok Wildcard act. Speaking about last night's result, he says:
That was a solid result. I feel very good about it. I came second in a competition that takes place all over the world. And I am the national number one, because I was the only one with German and good lyrics. That should be enough.

Ikke Hüftgold to Bild
Not only did Ikke Hüftgold speak about his result in last night's Unser Lied für Liverpool. He also spoke about his wishes and desires for next year, stating:
We'll sit together again next week. We will already start writing our song for next year.

Ikke Hüftgold about Eurovision 2024
Ikke has been a well-known name on the party scene in Germany for many years. He's scored hits, which are sung on every party where the beer flows freely. Other hits of his include "Dicke Titten, Kartoffelsalat" – a song about big bosoms and potato salad or the "Lewandowski Song". Just last year, he was the producer of the song "Layla" – a major summer hit in Germany which sparked controversy everywhere it was played.
Ikke Hüftgold is the stage name of Matthias Distel, a 44-year old from Limburg an der Lahn. He started singing as Ikke back in 2010. His début single was called "Saufen ist scheiße, aber wir machen's trotzdem" (EN: Drinking is sh*t, but we do it nonetheless). He also took part in Promi Big Brother in Germany. For the TikTok voting at Unser Lied für Liverpool, "Lied mit gutem Text" received 52% of the vote.
Lord of the Lost emerge victorious, Ikke Hüftgold takes silver
The jury and televoting sure did not agree in Unser Lied für Liverpool last night. Will Church became the convincing winner of the jury vote with 90 points, ahead of Anica Russo on 57 and René Miller with 54. Eventual top two acts Lord of the Lost finished fifth (43 points) and last (10 points). However, the televoters decided to put the entire jury top four as their bottom four, shaking things up enormously. The two major televote favourites were Ikke Hüftgold (27.4% of the vote) and Lord of the Lost (39.7% of the vote). With the televote points being percentage based, they also ended up being the top two of the night. Lord of the Lost emerged victorious with 189 points, Ikke Hüftgold took the silver on 111 points.
Would you like to see Ikke Hüftgold return to the German national final? Let us know! Be sure to stay updated by following @ESCXTRA on Twitter, @escxtra on Instagram, @escxtra on TikTok and liking our Facebook page for the latest updates! Also, be sure to follow us on Spotify for the latest music from your favourite Eurovision acts. As well as YouTube to see our reactions to the news in the run up to the 2023 Eurovision season.