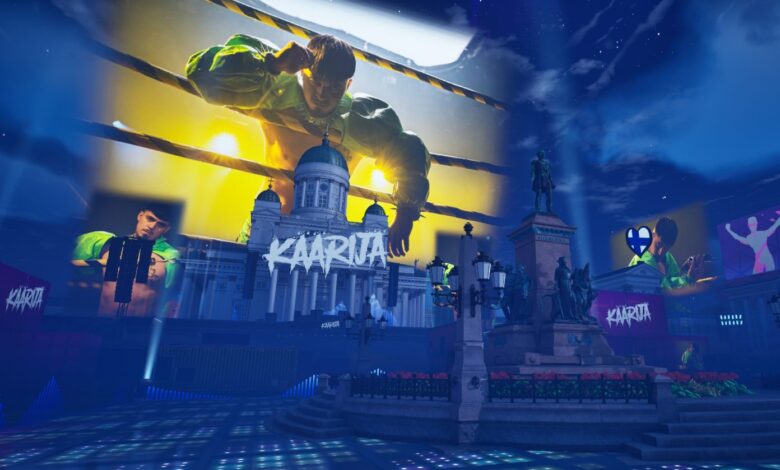 In the last few years, Eurovision artists have used many new platforms to promote their song to a larger audience outside of the Eurovision bubble. Now, Finland have revealed that they will promote their song 'Cha Cha Cha' on a platform we have not seen before: within the game 'Fortnite'.
Breaking boundaries
The game 'Fortnite' is immensely popular among younger audiences for its world building and 'Battle Royale' features. It it possible for players to visit a virtual version of Helsinki Senate Square where they can watch Käärijä's performance of 'Cha Cha Cha'. Finland has achieved this realistic-looking virtual Helsinki by working together with Metaverse developer Zoan.
 Ida Karimaa, the A&R at Monsp and Warner Music Finland shared the thought process behind the decision to promote 'Cha Cha Cha' in the world of games: "Käärijä is all about breaking boundaries, stirring the pot and creating new ways to connect with fans, so this kind of innovative promo campaign with the gaming world felt immediately like a natural and great opportunity."
Adding to that, Nicholas Wilczynski, head of digital at Warner Music Finland stated that "Käärijä and Fortnite are a perfect match".
Eurovision fans who have access to the game can watch a virtual Käärijä perform by opening Fortnite, navigating to the Discovery menu, and searching for the following Island Code: 1530-0619-6061.
Käärijä in the Eurovision Song Contest 2023
Käärijä won Finland's national final Uuden Musiikin Kilpailu with an overwhelming total of 539 points and won the trophy to represent his country in Eurovision 2023 with the song "Cha Cha Cha". "Cha Cha Cha" was already the favourite to win ahead of the show, being first in the odds and the winner that was chosen by the Xtra Prediction voters!
In the weeks leading up to Liverpool, "Cha Cha Cha" became a quick fan favourite, as could for instance be seen with Finland gaining second place in the OGAE Poll. During this time, ESCXTRA had the opportunity to interview Käärijä twice: you can read the written interview here, and you can watch the in-person interview below:
What are your thoughts on this promotion for Finland? Let us know! Be sure to stay updated by following @ESCXTRA on Twitter, @escxtra on Instagram and liking our Facebook page for the latest updates! Also, be sure to follow us on Spotify and YouTube to see our reactions to the news in the run up to the Eurovision Song Contest 2023, which is due to take place in Liverpool, United Kingdom!