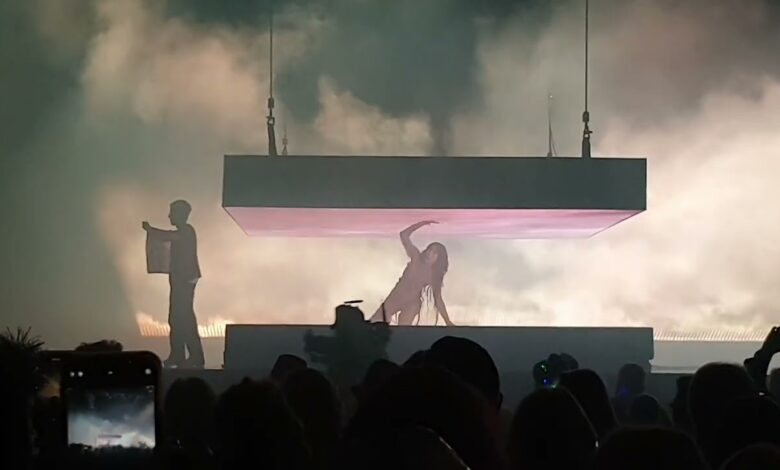 ESCXTRA.com was lucky enough to speak to Loreen following her qualification at Melodifestivalen tonight. We spoke to her about the stage invasion she went through during her heat.
Loreen: "I didn't feel any hostile energy whatsoever"
It seems the incident passed Loreen by quite quickly. Speaking to ESCXTRA.com's Dominik Rössing, the 2012 Eurovision winner says she thought there was a technical issue at first. Only then did she realise an activist was on stage, calling him her "beautiful little activist". In our interview, she speaks of the struggles activists must go through on a daily basis in order to make their causes known. That's why the "Tattoo" singer says she didn't mind the invasion at all.
Watch our full interview with Loreen below:
Wetlands protest at Melodifestivalen
According to Swedish media, the protest was carried out by climate activists from Sweden. One of the activists brought a banner on stage, but due to the staging of "Tattoo" being so dark, it was impossible to see the message. Newspaper Expressen have reported the banner stated Återställ våtmarker – a call to repair the wetlands of Sweden. Despite only seeing one activist on stage, Expressen also claim four people were arrested. Återställ Våtmarker have confirmed their action on Twitter:
As a result of the stage invasion, Loreen had to stop midway through her performance. She was allowed to start again and won the show a little later.
What do you think about Loreen's reaction to the stage invasion at Melodifestivalen 2023? Let us know! Be sure to stay updated by following @ESCXTRA on Twitter, @escxtra on Instagram and liking our Facebook page for the latest updates! Also, be sure to follow us on Spotify for the latest music from your favourite Eurovision acts. As well as YouTube to see our reactions to the news in the run up to the 2023 contest in the United Kingdom!