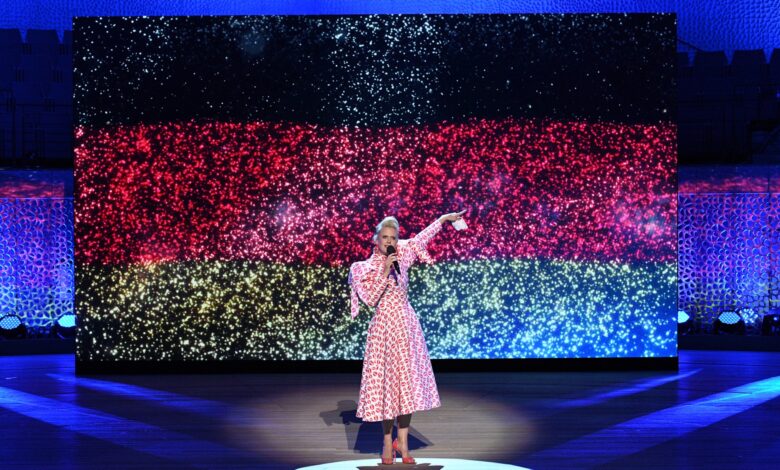 Germany have announced more details regarding Unser Lied für Liverpool, their national final. The show will take place on 3rd March 2023. As always, hosting the show will be Barbara Schöneberger. NDR have not yet announced how many acts will be taking part in the show.
Late night "Unser Lied für Liverpool"
The Germans will be leaving it late this year. Not just by selecting a March date for their national final, but also because of the timeslot. Unser Lied für Liverpool will start at 22:20 CET. Whereas this may be considered prime time in more southern European countries, it is very much a late night slot in Germany.
The show will air live on Das Erste, Germany's first channel. In addition to the TV broadcast, Unser Lied will also be available for streaming in the ARD Mediathek and the official German eurovision.de website. On these last two, a pre-show will start at 21:20 CET to look ahead to what's coming later that night.
Unknown amount of acts
NDR have mentioned that it is currently unknown how many acts will be taking part in the show. The selection process is ongoing as we speak. Musical experts, the German Eurovision delegation, ARD Popradio delegates and members of the international Eurovision community are part of the committee.
Only one of the places has been confirmed so far. One of the national final entrants will be chosen through a special TikTok competition. Voting for the TikTok wildcard will start on 27th January and end on 3rd February. The result of this TikTok vote will be announced during the new online show, Alles Eurovision, on 4th February.
A wildcard in Germany is usually a good sign. Elaiza, Ann Sophie and S!sters were all late additions to the pack in the German national finals. Now, their Eurovision results may not have been the best, but in terms of a national final: The Germans do like their wildcards.
Last year, Malik Harris represented Germany with his song "Rockstars". He sadly finished in last place with a mere six points. With that, Germany have now failed to escape the bottom two of a Eurovision Grand Final in six of their seven last outings. Only Michael Schulte broke that curse in 2018 by finishing in fourth place.
Who would you like to see represent Germany in 2023? Let us know by leaving a comment below! Be sure to stay updated by following @ESCXTRA on Twitter, @escxtra on Instagram, @escxtra on TikTok and liking our Facebook page for the latest updates! Also, be sure to follow us on Spotify for the latest music from your favourite ESC and JESC acts.