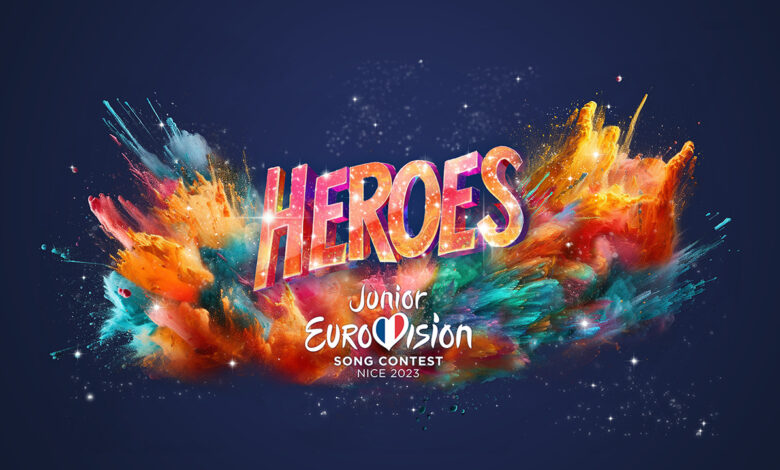 It's been a busy few weeks for Junior Eurovision, as many countries have been releasing their songs. We'll catch you up on all the selected songs below!
Albania
As reported previously, Albanian broadcaster RTSH has selected Viola Gjyzeli and her song 'Bota Ime' ('My World'), during a live broadcast national selection, Junior Fest 2023. 'Bota Ime' is a ballad sung entirely in Albanian, written and composed by Enis Mullaj, Eriona Rushiti and Viola herself.
Estonia
ERR are making their debut in Junior Eurovision 2023, they have chosen 11-year-old ARHANNA with, 'Hoiame Kokku'. The song, which means 'Let's Stick Together' in English, is a supportive song about the meaning of friendship. The melody of the song was created by ARHANNA herself, along with help in lyrics and production from Rael, Karl-Ander Reismann and Leelo Tunga.
France
France Télévisions has internally selected 13-year-old Zoé Clauzure and her song 'Cœur' ('Heart'). This is a fun, upbeat pop song with a message to stop bullying, written and composed by Noée Francheteau, Julien Comblat and Jérémy Chapron. Zoé is a talented songwriter and pianist. She participated in The Voice Kids 2020, where she reached the semi-finals, and she has already performed with Amir (Eurovision 2016).
Georgia
Only yesterday, Georgian broadcaster GPB revealed their Junior Eurovision participant and song. Anastasia and Ranina will be performing 'Over The Sky', with music and lyrics by Mebo Nutsubidze and Betkho. Despite the title, the lyrics are primarily in Georgian. It is an uplifting song with folk elements. Anastasia Vasadze won Georgia's young talent contest Ranina 2023, and will be joined in Nice by the two other finalists, Nikoloz and Oto, performing as 'Ranina'.
Germany
German broadcaster NDR will be sending FIA to Junior Eurovision, following an online national selection. Her song 'Ohne Worte' ('Without Words') is – as the title suggests – about not needing words to understand each other. FIA communicates with her little sister in sign language. When FIA participated in The Voice Kids 2023, she used sign language in her performances. We can expect the live rendition of 'Ohne Worte' in Nice to include sign language as well!
Italy
Italy's RAI has internally selected Melissa & Ranya and their song 'Un mondo giusto' ('A fair world'). Both Melissa Agliottone and Ranya Moufidi (both 13) participated in Italy's inaugural season of The Voice Kids (which was won by Melissa), and will now be performing at Junior Eurovision together. 'Un mondo giusto' was written by Marco Iardella and Franco Fasano and produced by Mario Natale. The song marks the beginning of RAI Kids' collaboration with Virgin Music LAS/Universal Music Italy in terms of music production.
Malta
Malta had already chosen their singer, 13-year-old Yulan Law, in a public national selection. Her song has now been released! She will perform 'Stronger', a Swedish-produced power ballad with a captivating buildup. Yulan (who will be using just her first name in Junior Eurovision) has already participated in the Voice Kids and Malta's Got Talent, and has competed in Malta's national selection for Junior Eurovision three times before.
The Netherlands
Dutch broadcaster AVROTROS has selected the duo Sep & Jasmijn in their public national selection Junior Songfestival 2023. Sep (13) & Jasmijn (14) were matched during the audition stage of the show. Their song, 'Holding On to You' is a typical Dutch production (by Robert Dorn), building up from a ballad to a powerful electronic dance banger. The lyrics are a mix of Dutch and English.
Poland
Poland has chosen Maja Krzyżewska in their national selection Szansa na Sukces: Eurowizja Junior 2023. She will perform the emotional ballad 'I Just Need A Friend', with music by Carla Fernandes, Dominic Buczkowski-Wojtaszek, Patryk Kumór and Piotr Zborowski, and lyrics by Patryk Kumór, Carla Fernandes and Maria Dzięcielak. The song features lyrics in both Polish and English. Maja is 13 years old, lives close to Suwałki, plays the piano and participates in rhythmic gymnastics.
Portugal
With her win of The Voice Kids, 12-year-old Júlia Machado was chosen to represent Portugal in Junior Eurovision this year. She is originally Portuguese, but lives in New Jersey in the US. Her song 'Where I Belong' was recently released, and tells the story of someone in a dark place, trying to find a better life. Júlia hopes it can help people who are being bullied. The song was written by Fernando Daniel, João Direitinho, Aurora Pinto and Luís 'Twins' Pereira and is a mix of Portuguese and English.
Spain
Spain's RTVE had previously internally selected Sandra Valero as their representative. Her song 'Loviu' has now been released! It is a reflection of Junior Eurovision's values of friendship and coming together across different cultures and languages. The song was written and produced by Luis Ramiro, Diego Cantero, Alejandro Martínez and Diego Parejo and is almost entirely in Spanish.
Ukraine
Finally, Ukraine has selected 9-year-old Anastasia Dymyd in a national selection. She will perform 'Kvitka' ('Flower), a mix of Ukrainian folk and electronic music. The song was written by Svitlana Tarabarova, who has also written two other songs participating in the national selection.
And more
While most broadcasters have released their participating songs, not every country is ready yet. Here's the latest situation:
Armenia: internally selected song and artist to be announced
Ireland: Jessica McKean will perform 'Aisling', a song entirely in Irish. The song will be released soon
North Macedonia: Tamara Grujeska has been internally selected, a song will follow soon
United Kingdom: internally selected song and artist to be announced on 19 October on BBC Radio 2
Who should win Junior Eurovision 2023? Let us know! Be sure to stay updated by following @ESCXTRA on Twitter, @escxtra on Instagram, @escxtra on TikTok and liking our Facebook page for the latest updates! Also, be sure to follow us on Spotify for the latest music from your favourite Eurovision acts, and on YouTube for reactions and exclusive interviews.