Welcome to The Xtra Files, our series which will give you an insight into what the team at ESCXTRA think of your favourite entries into this year's contest! Today, we review Slovenia.
Now that all the songs have been released, we are able to review each and every one of them. Our honest and brutal reviews will keep you entertained until the rehearsals start on 30 April! We will also each give a score out of 10 for every entry, and create an ESCXTRA leaderboard of the entries!
Today we have reviews of the Slovenian entry, 'Hvala, ne!' by Lea Sirk, from Dominik, Hlynur, Nathan, Nick, Rodrigo and Tim. Let's get started!

The Reviews
Dominik
Slovenia is sending a song that will stand out. I like the production of this. Even though I think the chorus could've been a bit stronger, I enjoy this. A solid entry. Don't know, if it's enough to qualify, but it is a song I won't skip while listening to all the entries.
Hlynur
No thank you, this is too much for me. But it sounds like a perfect response to the song "Do It For Your Lover". But to be fair, Lea Sirk is a great performer and singer.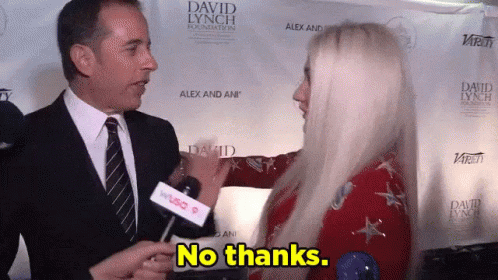 Nathan
Slovenia have historically been one of my favourite Eurovision nations, and 2018 is no disappointment. Lea Sirk's win in EMA was well deserved with structured visuals accompanying the lyrical content of the song. "Hvala, ne!" is the style and sound that I often choose to listen to, so this is a song that I really love. I think the chorus is exceptionally catchy and the industrial post-chorus break can be staged effectively in Lisbon with using the many light effects that will be offered by the staging in May. I am remaining hopeful that this will slip through into the Grand Final thanks to its running order draw.
Nick
This song is so full of attitude, plenty of sass, yet at the same time, it's not tacky or cheap. Sass and class, let's put it that way. Lea sells this well. I hope she sticks to what did in EMA. No need to change much in this one.

Rodrigo
Gave me a headache the first time I heard it. Without the visuals it's really just a bunch of non-sensical noise. NEXT!
Tim
Slovenian Rap going to Eurovision? You must be crazy??? But in all seriousness it's happening y'all. At first, I didn't really like the song, but you can say that Hvala Ne is like wine and cheese for me. The more I listen to it, the more I am loving it and getting the appeal to the fandom. But I wouldn't be surprised if this gets left behind in the Semi.
Scores
| | | | | | |
| --- | --- | --- | --- | --- | --- |
| Dominik |  5 | Nick |  7 | Tim |  6 |
| Hlynur |  1 | Riccardo |  7.5 | Tom |  7 |
| Lisa |  9 | Rigmo |  8.5 | Vincent |  5 |
| Luke |  6 | Rodrigo |  1 | Wiv |  7 |
| Matt |  6.5 | Ryan |  7.5 | Yassia |  3 |
| Miki |  7.5 | Sami |  7 | | |
| Nathan |  8.5 | Simon |  4 | | |

Therefore, the average score for Slovenia is 6.00.
Leaderboard
Slovenia reaches 18th place in our leaderboard.
Slovenia – 6.00
Tomorrow, it will be the turn of Norway to be reviewed.
Do you agree with our reviews of Slovenia? What are your thoughts on 'Hvala, ne!'?

Let us know in the comments below and on social media @ESCXTRA!